NEWS
Fashion Week Diary: Day Three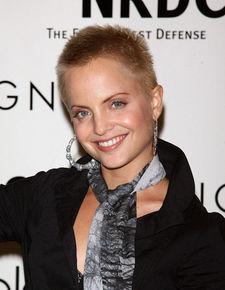 The 1940's jet set-inspired Chaiken show at Bryant Park received tons of applause and lots of celeb sightings. First off, OK! ran into What Not to Wear host Stacy London who told us she just loves Chaiken: "They work for women who want to look great who don't have a lot of time for style. The clothes look great, all you have to do is put it on. It's a no brainier."
And for fans of her show, the sixth season, she promises, will be good. "There are going to be some doozies!" As for her new Friday night talk show, Fashionably Late, that starts in November, Stacey said, "It has talk show elements. The best part about it is it really is a party. If I was throwing a party at my house it would look just like this." She assured this reporter that my outfit worked just fine and that it was totally cute. "I'm looking for a disaster in the tents," she added.
Article continues below advertisement
OK! also bumped into Lisa Rinna at the Chaiken show. "It was gorgeous. I love the colors and the fabrics. I loved it!" She had no idea what she would be wearing to the Emmy's next week.
Meanwhile at the launch event for Mena Suvari's Echo scarf collection, after the actress turned scarf designer got herself a new pair of shoes (her old ones broke), she sat down with OK! to discuss her role as a designer. Part of the proceeds of each scarf goes to NRDC, a nature charity. "I've always been interested in fashion, and I wanted to design.
"I feel very connected to nature. I feel trees are very symbolic of life. I set about finding the trees to photograph. And I'm just very taken about how it's all come together," she added.
"I would love to design something else. But what is most important about this event is that 15% goes to NRDC. I've done several events where I've worked with the NRDC."
And what about that short 'do she's still rocking? "It's easy. I miss my long hair. Your wardrobe changes a lot when you have short hair. I'm trying to make myself look okay as I go through the growing-out process.
Article continues below advertisement
Finally, at the MetLife Snoopy in Fashion show at the tents, OK! had the pleasure to run into OK! magazine fan and all-over fashion maven Tim Gunn. The Bravo host said, "Among the shows I've seen I wouldn't say there's a common denominator. I've seen trends in shows, but it was the first time in my experience that each of the shows has had it's own DNA."
Also, at the show was View co-host Elizabeth Hasselbeck who attended the show with her brother and her baby bump! And just how is Whoopi fitting in with the View Crew: "I mean it feels like we've been there 50 years together!" she told OK!
She added, "The pregnancy is great. The baby's been jumping around!" By Jocelyn Vena