NEWS
Fashion Week Diary: Day Two Cont'd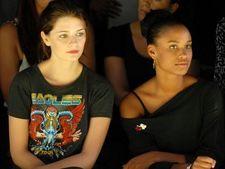 Miss Sixty
Bryant Park
Though it was an early show, it was definitely one not to miss. Miss Sixty is bringing metallic back and keeping denim short jumpers in style. Right before the show started and they began clearing the runway, Maggie Gylenhaal was seated. Then Hilary Swank and Demi Moore appeared very chummy as they walked into the show together. When they saw a clan of photogs around their seats, they seemed a little taken aback and headed back up the stairs.
Article continues below advertisement
Finally braving the flashbulbs, both ladies looked amazing. As the cameras focused on them, Mischa Barton, in t-shirt, skinny jeans and a pair of studded heels strode unnoticed and without an entourage to her seat. She sat next to Joy Bryant, and they chatted throughout the show.
As the show began, Demi donned her sunglasses, perhaps like some celebs that wear sunglasses in not bright places to protect themselves from making eye contact with people. Clive Owen even managed to make it to the early show after the premiere of his movie Shoot 'Em Up. With the show over, Demi and Hilary bolted out of their seats and ran backstage. Maybe they wanted to be the first to give their congratulations on a successful show.
Badgley Mischka
Bryant Park
One person who wouldn't miss this show was Teri Hatcher, who appears in the pair's new advertisements. Wearing a gold dress, she seemed to really enjoy the clothing as she even chatted with Allison Janney throughout the show. Also there checking out the clothes, or maybe the models, was JC Chasez. Howard Stern's fiancée, Beth Ostrosky and Emmy Rossum also gazed at the wonders of cloth.
Article continues below advertisement
G Star
Gotham Hall
The place to be was definitely the G Star show at Gotham Hall. Before the show, the champagne was flowing backstage. OK! caught up with a chatty Wilmer Valderrama who recently just launched his own clothing line called Calavena. He is in town until Tuesday doing research. "I think I'm going to do the Fall of '08," Wilmer added about showing his collection at Fashion Week. "I would do the New York one. I really love New York and have a lot of people here." As for what he feels most comfortable in, "I like layering a lot, but I'm a big denim guy." Little did everyone from Heather Graham with boyfriend Charles Ferri to another adorable couple, Nick Cannon and Selita Ebanks know that they were about to experience a production, not a fashion show. Models first climbed the stairs a la Deal or No Deal, then they posed and made their way to the runway where in the middle was a 'people-mover." It was surely a spectacle as models turned to mannequins as they went down the middle and others walked down the sides. G Star gets the star for coolest fashion show and from the likes of it everyone agreed with the loud appraisal.
Alexander Wang Afterparty
This San-Francisco born designer may be young in the industry, but he certainly knows how to have a good time. Mischa Barton stopped by after she attended the Save the Children 75th Anniversary at Lincoln Center and had herself a good time. The temporary Jersey girl danced the night away. Also there were the beat makers, DJ AM and Danny Masterson and JC Chasez.
Fashion Rocks Afterparty
Article continues below advertisement
Rainbow Room
Fashion Rocks certainly did rock, but the party rocked even harder. Nicole Richie came with Benny Medina, maybe they were discussing a future Ms. Richie album and she sat at his table. A partygoer tells OK!, "She was extremely friendly, but kept to herself." Eating for two, she did manage to enjoy the buffet. The host of the evening, Jeremy Piven finally arrived with a gaggle of women and took over a table where two girls were seated. They got up and though it looked as if it was their table, they obliged and continued chatting with Josh Groban as Jeremy kept looking around the room. Ok! even managed to have a chat with him and he is genuinely a sweetheart. He talked about his new foundation he recently created after going to Africa and saw lots needs to be done there. Also in attendance were former CK underwear model Antonio Sabato Jr. and Carrie Underwood, who were having a nice, long conversation. With the Moet flowing, and Mary J. Blige with her husband and the newlyweds Usher and Tameka enjoyed the best view of the house as it was a corner of the Rainbow Room with windows on all sides. As OK! was leaving, a furniture mover couldn't help but mention to Cuba Gooding Jr. that he is a fan and used to be a break dancer like him to which Cuba replied, "Cool."
And that was only Day 2!
By Alisandra Puliti