NEWS
Fashion Week Diary: Days Two & Three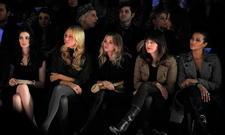 DAY TWO :
Day Two at the tents started with the Alexandre Herchcovitch where Miss USA Rachel Smith was loving every second of it. She shared with OK! that she thought the line was incredible. Rachel who doesn't think a second season of Pageant Girls will be filming also admitted, "I am now just being introduced into the fashion world and learning how to take pieces that are over the top and put them into my wardrobe and style." While it is only her second fashion week, Niki Taylor, a veteran to the runway worked the crowd along with the models from her Bravo show.
Article continues below advertisement
Later that night, OK! came back to the Bryant Park tents to check out the Rock & Republic show. It may have started over an hour late, but it was certainly well worth the wait with the live orchestra they had in the middle of the runway. In the meantime, the W Hotels Jet Set Lounge was bustling with celebs. Ellen Pompeo with her husband Chris Ivery stood in a corner and snacked on sushi provided by the celebs favorite eatery Koi. On the other end of the lounge, OK! caught up with Christina Milian who is just adorable. This year for her is going to be a busy one as she starts filming a movie with Jennifer Garner and Matthew McConaughey in three weeks. She confesses, "He is much better looking in person!" That doesn't help her get over her nerves of meeting these stars. "I guess because I see them in the magazines and admire their work," she explains. "When I finally get to meet them, I'm such a dork."
At the show, OK! passed an injured Russell Simmons who was resting his foot on the runway to get to 30 Rock's Katrina Bowden. Just back from her trip to the SAG awards, she tells OK!, "I love doing the carpet at those things." But, the blonde beauty admits, "I like to dress comfortable."
During the show, Joss Stone paid more attention to the orchestra, which makes sense for a talented songstress like herself. As for her personal style, "I don't really have a style," she tells OK! "Some days it's ridiculous, some days it's posh, others it's casual." Across the runway, Tyson Beckford did not let his adoration for a purple high-slitted dress stay quiet as he applauded loudly as the model walked by.
Article continues below advertisement
After the show, Sophia Bush mentioned to OK! that the line is very sexy and reminded her of '70s era Farrah Fawcett.
At the new sexy hotspot 1OAK, celebs came to celebrate the designs at the after-party. Sophia, Vivica A. Fox, Gary Dourdan from CSI, Cameron Richardson and Katrina Bowden chatted it up and danced. As OK! was leaving, Stavros Niarchos with a bunch of buddies came to hang.
Elsewhere, at the Alexander Wang afterparty at the Annex, Zach Braff may be trading his low-key single status for model Le Call, whose name you may recall formerly linked to Owen Wilson. Zach was seen hand-in-hand with model and then he was later seen squiring her around the Beatrice Inn and again at Tenjune. Witnesses tell OK! "It seemed like a new relationship but they seemed very into each other."
DAY THREE:
Superbowl Sunday doesn't exist in the fashion world as the tents were still bustling. Off-site at the Y-3 show at Pier 40, Ellen Pompeo, her hubby and Helena Christensen bundled up in the warm blankets along with hand warmers as they watched the models parade aside tons of ice. Before, the actress and the model chatted backstage and stayed warm near heaters.
Back at the tents, Miss Sixty once again proved to be a show not to miss. Anne Hathaway chatted it up with designer Wichy Hasan in Italian as her boyfriend Raffaello Follieri watched in adoration. While watching the show, Anne returned that love and had her hand on Raffaello's knee throughout the entire show. Next to her were Chloe Sevigny, Ashley Olsen who sure knows how to rock the casual look Milla Jovavich and Paula Patton.
Article continues below advertisement
Backstage, Paula caught up with OK!, and she is a blast. Though she loves colors, she confessed, "Because I travel so much for work, I find that I wear black all the time." Her schedule is about to get busier as she has two movies coming out this year, one with Kevin Costner and the other with Keifer Sutherland. How hubby Robin Thicke handles it, we don't know, but she says, "He is incredibly supportive. We've been though it together since high school."
After the 60s themed Miss Sixty show, it was time to go watch the Giants win the Superbowl.
By Alisandra Puliti