NEWS
Fashionable Way to Fight Swine Flu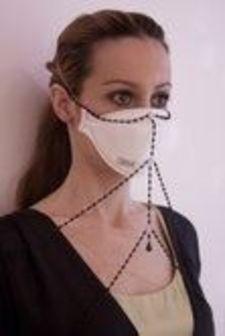 If Heidi and Spencer sporting surgical masks on their honeymoon sparks a trend, at least Sylvia Heisel has found a way to make it fashionable. I received this email today from my friend Nicole (pictured sporting the odd accessory herself).
Subject: Fashion Fights Swine Flu
Our faces deserve the designer treatment too! Face masks are no longer for just doctors, nurses, and Michael Jackson. Nowadays, we've got to protect ourselves and our loved ones from germs, but just because we've gotta be cautious, doesn't mean we can't be stylish. Surgical masks are no longer boring, as designer Sylvia Heisel turns the plain old mask into a unique and super-chic decorative accessory. They can match your style as well as your personality. In Asia, when you are sick, it shows good manners to one cover one's face in consideration of those around them. Sylvia Heisel's designer masks are adorned and beautifully embellished giving fashion the power to decrease the spread of disease, whether its worn for protecting against swine flu, traveling, pollution, allergies, or just the common cold - Sylvia Heisel is taking public health by storm in a sanitary and stylish way. It all makes perfect sense, exploring masks from a designer standpoint leads to creativity and sophisticated flair. Flaunt your designer mask, and let is serve a fabulous fashion as well as a protective purpose.
Article continues below advertisement
Well, there you have it...Now I'm off to the Chateau Marmont to for the Carerra Vinatage Sunglasses LA Launch Party. Now there's an accessory I will be sporting. Stylish stars like Gwen Stefani, Kanye West and the Beckhams already have a pair and I'm sure tonight's expected celebs like the Kardashians, Sophia Bush and Eve hope to snag a pair while there ;) xo