NEWS
Fast-forward Relationships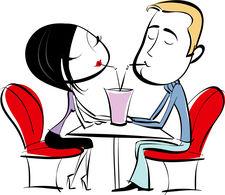 It seems like the days of long courtships are fading as fast as scripted television shows. Maybe it's because we're waiting longer to settle down, commit and get married that by the time we make it to that point we decide we're ready we want immediate gratification? Or maybe we're just old enough to know what we want.
Case in point, I've often (well, the five months since they've met) referred to the relationship of C and N. They met and a summer 'fling' turned into the real thing and they've gone from living together a month after meeting to C theoretically talking about selling her NYC apartment in favor of the more spacious Brooklyn…or a house in the suburbs! I nearly fell off my bar stool until I stopped for a second and realized, wow, we are at that age, I guess.
Article continues below advertisement
My other friend R was dating the same boy on and off for ten years. I/we thought they never took the plunge because she had commitment issues. They decided to break it off for good a few months ago. About eight weeks ago she met another boy. Well, they'd met ten years ago but only really got to know each other eight weeks ago. They started dating. After six weeks they did 'meet the parents.' I saw them last weekend and they were talking future. She said he'd asked her to move to Portland. He said she's his dream girl. She's considering Portland.
A's been in love with the same guy since he broke up with her for not saying 'I love you' back for five years. She recently moved clear across the country to LA to start over – I think in part to start over as far as him. On a ski trip two weeks ago she met a boy she thought was cute. Last weekend she went up to San Francisco to spend the weekend with him. She wants to go to San Francisco again this weekend. In May he's moving to Rome for three months. She's already missing him.