NEWS
FBI Investigated Anna Nicole in Murder Plot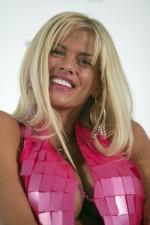 Anna Nicole Smith had many personalities -- Playmate, diet pill spokesperson, reality TV star, mother -- but was murderer one of them? Newly released FBI files on Anna, obtained by the Associated Press, show that the agency investigated whether the star plotted to kill her wealthy husband's son during their battle for his estate and sizable fortune.
The FBI apparently investigated Anna in 2001 and 2001 in a murder-for-hire plot that targeted E. Pierce Marshall. Anna had been married to octogenarian oil magnate J. Howard Marshall when he passed away, and his son and Anna became embroiled in a long legal battle to take over his hundreds of millions. The son died in 2006 of natural causes.
Article continues below advertisement
The documents show an ongoing investigation during the legal wrangling, but no evidence of Anna being involved in a plot is detailed. On one occasion, FBI agents interviewed Anna. When they told her why they were questioning her, "Smith began crying and denied ever making such plans," a report said. "Smith adamantly denied ever contemplating such a crime," an agent wrote, and prosecutors eventually agreed the case could not go forward.
An attorney for Smith's estate, Kent Richland, said he had never heard anything about the allegations.