NEWS
Felicity & Bill are Still Sexy!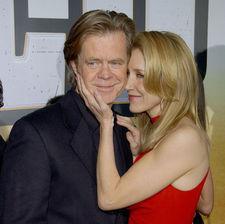 After 11 years of marriage and two daughters, Felicity Huffman and husband William H. Macy manage to keep their romance alive!
Recently, Felicity treated Bill to an early birthday treat at the St. Regis Resort, Monarch Beach, in Dana Point, Calif., where they got massages and dined at the resort's Stonehill Tavern.
"They had a wonderful celebration," a source says of Felicity, 46, and Bill, who turned 59 on March 13, "with no kids in sight."
Article continues below advertisement
The actress recently told the L.A. Times that she struggles with motherhood, despite always seeming to play motherly roles on screen.
"I thought that maybe it's my age, or maybe it's a little gift or joke from God: 'That thing that you struggle with so mightily, well, I want you to do it in your professional career as well," she says. "I did not enter into motherhood with any sense of equanimity or grace."
She adds, "I'm surrounded by women who are much better mothers than I am, and they come to it much more naturally."