NEWS
Fellow Critic Attacks Roger Ebert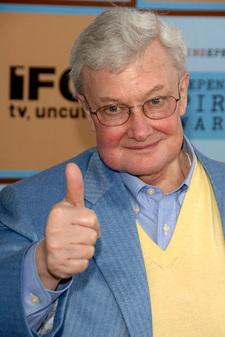 After battling thyroid and salivary gland cancer, beloved Chicago Sun-Times film critic Roger Ebert is unable to talk. So during a Toronto Film Festival press screening of Slumdog Millionaire, he tapped on the shoulder of the person in front of him to indicate that he couldn't see.
However, as the New York Daily News' Rush & Malloy column reports, instead of moving, the New York Post's film critic Lou Lumenick reportedly yelled, "Don't touch me!" followed by another warning of, "I said don't touch me!" before turning around and hitting Roger with his film binder.
Article continues below advertisement
Others in the fully packed theater, there to see the film by Trainspotting's Danny Boyle, were shocked at the loud sound the binder made as it connected with Roger, the Daily News reports.
"He hit him so hard everybody could hear it," says a source. "Everyone freaked out and turned around."
Roger was apparently unharmed and, according to the Daily News, even gave the film two thumbs up on his way out.