NEWS
Fergie Makes Josh Duhamel Blush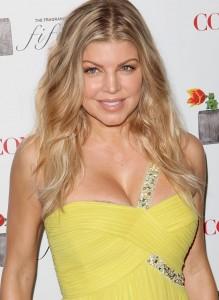 A nervously excited Josh Duhamel pops up backstage ten minutes before he surprises wife Fergie at the Fragrance Foundation's FiFi Awards held Wednesday at NYC's Lincoln Center. He chats with insiders as he waits in the wings, and boom – onstage he goes.
A shocked Fergie gasps at the sight of the man she married in 2009 when he presents her with the New Fragrance Celebrity of the Year award for her Outspoken perfume.
Article continues below advertisement
"She never ceases to amaze me," Josh tells the crowd. "She's talented, beautiful and charismatic, but she's the kindest and most thoughtful person I've ever met. She's a true inspiration. She's the best thing that ever happened to me. Please join me in welcoming my partner in crime, the yin to my yang, the froth in my cappuccino, the woman I love - Fergie."
Ever the gentleman, he helps the Black Eyed Peas superstar onstage. As Son of a Preacher Man plays, they embrace.
"Oh my God," Fergie says. "This is crazy. I'm trying to collect myself right now. Wilhelmina Modeling owner Sean Patterson just pulled the biggest one on me with my husband. I love you honey, and I love you Sean, honey, wherever you are. Get up here! My two boys – or men."
Incredibly, Fergie's Outspoken perfume has become the biggest fragrance launch in Avon's 125 year history.
"By the way, I hope you receive my next fragrance, Outspoken Intense, with the same amount of love. I still can't believe you guys did that! You f*****s! audience hoots Sorry. I'm a little outspoken."
Article continues below advertisement
Still, Fergie doesn't take all the credit for her successful ventures.
"Whenever I get on the stage, whether on tour or at a special event, I, above anyone, know that my performance exists as the sum total of the work of hundreds, sometimes thousands of people – I keep popping the microphone, sorry. I'm trying to make a beat. Where's will.i.am?"
She continues, "In that same regard, I know that I would not be here getting this recognition without the incredible support of the 6 ½ million Avon representatives around the world. audience hoots and hollers Some of whom are here today. The top seven. They're like pitbulls in a dress. Yeah! And they are some of the most inspiring people that I know. Thank you ladies, and thank you to Sean Patterson, my BFF, and cutesy voice my husband, my BFF with benefits. laughs"
Josh's face turns beet red – aww, he's blushing!
"I accept this award, amazingly. It is so crazy. It shows me, just like my girl Oprah taught me, that no dream is big enough, and I want to thank all of you. Thank you for letting a girl from Hacienda Heights feel like she's living her favorite dream, and be as outspoken as she wants to be. shrieks"
Josh lovingly puts his hand on her neck, and they joke to the strains of Son of a Preacher Man before they head backstage, where she dances with her award.
What is it like surprising Fergie?
"It's fun," he says. "It's just fun."
She looks at him lovingly. Of his appearance, she tells reporters "I am shocked. Genuinely surprised."
In what ways does Fergie's fragrance embody her spirit?
"It's outspoken," she says. "I want women to feel comfortable in their own skin - to say what they feel and mean what they say."