NEWS
Is Fergie Pregnant?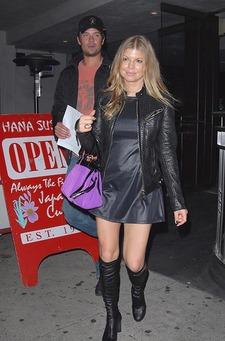 Longtime lovers Fergie and Josh Duhamel resurfaced Tuesday evening for a little wining and dining at Santa Monica's Hana Sushi, where the "Glamorous" songstress was captured sporting what appears to be a tiny baby bump. So is there a little Dutchess or Duke on the way?
Mum's the word for now.
Also unknown -- what Fergie dined on. No one at the restaurant was able to confirm whether or not the starlet ate sushi -- a big pregnancy no-no.
Article continues below advertisement
This isn't the first time the 32-year-old has sparked baby talk. Rumors swirled at last month's Grammys that the Black Eyed Peas star, who got engaged to Josh in December, was with-child after those with keen eyes saw what looked like an expanding belly. However, the reports were squashed by Fergie's rep and mother.
"Nope, not at all," Fergie's mother, Terri Ferguson, said on Ryan Seacrest's KIIS FM radio show. "Did you see her at the Grammys?...Skinny, skinny, skinny."
Calls to Fergie's rep have yet to be returned.