NEWS
Fergie: Summer Is Happiness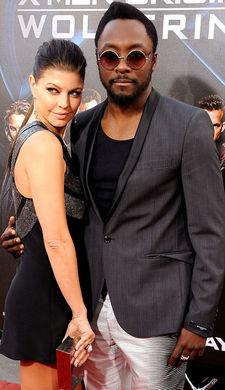 It's hot fun in the summertime for the Black Eyed Peas.
"I love that everyone's in a good mood," friendly Fergie, 34, tells me of the season that started yesterday. "People seem to be in a happier mood in the summertime, they don't have to worry about rain as much and people's birthday parties aren't canceled. People get off from school and get a break, and with my parents, they were teachers, so they always loved their summer break, and they were always in a better mood, so it was better in my house."
Article continues below advertisement
The singer, who wed Josh Duhamel, 36, in January, has one fashion must-have this summer.
"I'm loving the harem pants. Back in my day, we called them hammer pants. They're great to dance in."
What does will.i.am, 34, love most about summer?
"Well, for us, we experience two summers every year. We tour the Northern Hemisphere, and we tour the Southern hemisphere. When it's winter here, we have the blessing of going to Brazil. Summer … it's great weather and people are out, the weather's cool, the girls are wearing little bikinis. I've got my little speedo. I'm really representin' – showing my physique. I've really been working on my muscles pronounces like musc-les. Muscles, yeah, that's right."
The supergroup is bubbling with excitement about working with Michael Jackson.
"I loved the song Beat It," Fergie says. "I had the Thriller album. He didn't have Beat It yet. I said 'you've gotta let me do it.' Michael Jackson actually, I talked to him on the phone, and he said imitates 'I love the way you did it. Your voice sounds really gritty.' That was a huge compliment for me coming from being a huge fan and buying his albums growing up."
Article continues below advertisement
Would Fergie perform with the King of Pop during his UK dates in July?
"If he asks me to!" she exclaims.
On the personal front, Taboo, 34, is making way for a new addition. "My son will be born in the summer, so I'm very proud of that," he tells me.
Fergie got her start on Kids, Incorporated at the tender age of nine. Any tips for kids managing a busy schedule?
"I'd go to school, and after school my mom would pick me up, I'd do my homework in the car, I'd go to auditions, then I'd go straight from there, pick up fast food – I grew up on fast food – go to dance classes or gymnastics classes, then go home and go to bed, so I really was working at a young age."
What's the best thing Barack Obama told the Peas?
"He told me he really likes my style and he likes the way I dance," will.i.am says.