NEWS
Fergie "Wants a Little Time Off" to Spend With Hubby Josh Duhamel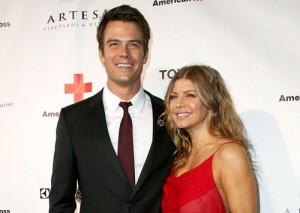 Fergie and Josh Duhamel were asked many times when they are going to start a family while Josh was promoting Life As We Know It and they kept saying they'd need to take some time off from work eventually to do that. Well, Fergie has announced she's putting her solo music on hold to spend more time with Josh!
OK! GALLERY: JOSH DUHAMEL & BETTY WHITE HONORED AT RED CROSS RED TIE AFFAIR
"I've got a lot on my plate and this year is more about simplifying and really paying attention to the projects that I have on my plate and spending some time with the hubby, you know?" Fergie told Access Hollywood when she was asked about her plans for a solo album.
Article continues below advertisement
"And cleaning out my closet," she added. "That's been a big thing this year — huge for me — purging and splurging… I finally am at the place where I'm letting it go, I'm cleaning things out and I'm starting to make more purchases for myself."
But Josh just told E! News that the break Fergie is taking is not just for him.
"She's not doing it because of me," he explained. "She wants a little time. They've been working her like a rented mule for eight years. She wants a little time off."
But Josh said the press speculating the time is really to spend with him is "very sweet."
"And I mean, we do want to take some time and I'm excited to have more time with her, but we always consider the other person when we're doing something and make sure we're scheduling enough time to be together," Josh said. "That's the only way to make it work."
OK! VIDEO: JOSH DUHAMEL SAYS HE'S "NOT TOO BUSY TO GET BUSY"
MORE ON:
Katherine Heigl
Get The Top 6 Celeb-Loved Skincare Products For Under $60, Used By Alexandra Daddario, Alicia Keys, Katherine Heigel, Lori Harvey, Ruby Rose, More — Shop Now
Slammed By The Stars: Kim Cattrall, George Clooney, More Spill The Tea On Toxic Work Environments, Horrible Costars, Terrible Projects
Article continues below advertisement
But while Josh was promoting Life As We Know It with Katherine Heigl, who had just adopted her daughter, he was happy to talk about his desire to start a family.
"I've always known that, ultimately, I wanted to have kids," he explained in an interview with Extra. "It's just a matter of when. My wife Fergie obviously is very busy."
"You're pretty busy yourself," Katherine added.
"I'm not that busy," Josh said. "Not too busy to…"
"To procreate?" Katherine suggested.
"Not too busy to get busy," Josh concluded.
Do you think Fergie and Josh will be doing just that during this break?