NEWS
Fergie's Fight Against Drugs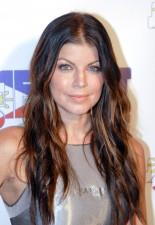 The Black Eyed Peas hit "Boom Boom Pow" may have zoomed to the top of the charts, but lead singer Fergie has opened up about a time in her life when she hit rock bottom.
After finding success with the girl group Wild Orchid at the age of 17, Fergie found that she couldn't handle the transition from adorable child star to adult artist.
Initially life in a pop group was "fun." "I left home and moved in with one of the girls in the group, Stephanie," Fergie tells the U.K's The Sunday Times Magazine. "It was great times. I bleached my hair platinum-blonde."
Article continues below advertisement
But as the band tanked Fergie's the dream began to turn sour, "I thought it would be disloyal if I left, but I wasn't happy any more with the music we were doing," admits the Dutchess. "I really internalized it and found my outlet in the underground club scene and the raves."
"I had a blast but those things can only last for so long," the 34-year-old says. "I'm actually lucky that I hit it as hard as I did because it took me to a place where I knew I never wanted to do it again."
That place? A dependency on drugs.
"It started with ecstasy. I loved ecstasy. Loved it, loved it. It was great at first, then it just went..." she mimes a crashing plane.
Then came her addiction to crystal meth.
"It ruins you," she says, admitting she became so paranoid she blacked out the windows of her apartment, convinced she was under FBI surveillance, the paper reports.
And she narrowly escaped with her life after her dealer pointed a gun to her head on a trip to East L.A. "Yeah, that was crazy" she says, 10 years after she last did drugs. "Don't mess with East L.A. Thank the lord I'm here."
Article continues below advertisement
But after losing everything and moving back in with her parents Fergie began to get her life together.
What about her brush with gangland L.A? "It was very alluring, very romantic," she confesses, "Well, I romanticize it. I thought it was artistic. I still think gangsters are cute."
So, how did she meet her husband of nine months, Josh Duhamel?
"I started becoming attracted to qualities that didn't involve guns and drugs and gangs," she says. "I changed my behavior through therapy and started becoming attracted to things like integrity and loyalty. Who would be a good father? Who would be a good husband?"
Sounds like Transformers hunk Josh fitted the bill!