NEWS
'Fifty Shades of Grey' Movie Rights Sold! Who Should Play Christian & Anastasia?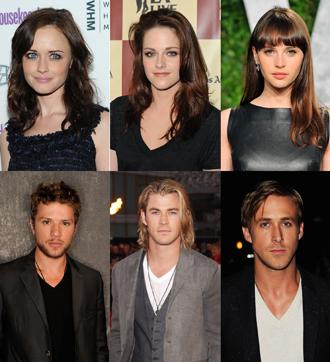 E.L. James' Fifty Shades of Grey book series is the definition of a guilty pleasure. The movie rights have just been sold for the best-seller erotica trilogy to Universal Pictures and Focus Features.
Deadline reports that the fight for the movie rights for this series was fierce. But in the end, Focus Features will market and distribute the film in a partnership with Universal.
Now the big question is, who will play the lead roles in this steamy story?
Article continues below advertisement
For the role of Anastasia, we've chosen Alexis Bledel, Kristen Stewart and Felicity Jones. When we think "mahogany hair," "big blue eyes" and "flawless" skin, we think Alexis. The only trouble we have is seeing Alexis take on such a sexual role, which is what makes us think of Kristen. Kristen has been daring enough to take on the role of a stripper in Welcome to the Rileys, so we think she can handle it. We also know Kristen could play Anastasia's nervous qualities of biting her lip and fidgeting well, since Kristen does that already anyway! Still, after starring in Twilight, we're not sure Kristen would want to star in yet another trilogy. Especially when there are some similarities between Fifty Shades of Grey and Twilight. Controlling guy who is always worried about his girlfriend's safety ring a bell? Which is what brings us to Felicity. Her breakout role in Like Crazy has us begging to watch her in more! Do you think she could handle the part?
Article continues below advertisement
Out of these three, who is your top pick? Anyone else you'd add to the list?
OK! NEWS: REESE WITHERSPOON'S AWFUL DIVORCE FROM RYAN PHILLIPPE — "I AM A TOTALLY DIFFERENT PERSON NOW"
Now, the best part. We have a clear winner for who we think HAS to play Christian — Ryan Phillippe! We know he has what it takes for this dominant role after seeing him in Cruel Intentions and he certainly has the "intense" eyes. But we wouldn't complain if we saw Chris Hemsworth in this role either. He definitely has the body for it and is strong enough to pick up any girl! Maybe he and his Snow White and the Huntsman co-star Kristen could team up again? But then there is Ryan Gosling. Ryan is such a good actor that we know he could transform himself into any role — and we wouldn't mind seeing him take on such a sexy one!
Who is your top pick to play Christian?
Are you looking forward to this story hitting the big screen or do you think it's too racy?