NEWS
Film Critic Roger Ebert Blogs About His New Chin!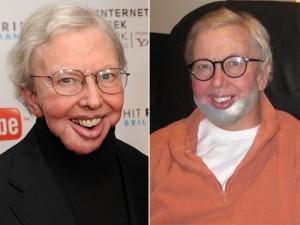 After battling thyroid and salivary gland cancer, beloved Chicago Sun-Times film critic Roger Ebert has undergone a remarkable transformation. The critic is gearing up for a new movie show, and now he has a new chin as well!
Roger took to his blog this week to reveal his new prosthetic chin.
The movie buff explained it took two years to create the prostheses, which he will be wearing on his new show.
Article continues below advertisement
During his battle with thyroid and salivary gland cancer, part of Roger's jaw was removed.
He wrote that his new look was "not to fool anyone, because my appearance is widely known.
"It will be used in a medium shot of me working in my office, and will be a pleasant reminder of the person I was for 64 years. Symbolically, it's as if my illness never happened and, hey, here I still am, on the show with these new kids," he wrote.
The new show Roger Ebert Presents At The Movies premieres on Friday night.
See his chin transformation in the pictures below!