NEWS
The Final Three — What You Didn't See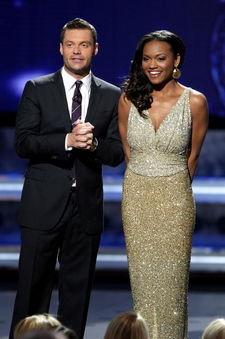 After months of tryouts, eliminations, auditions, performances, interviews, commercial shoots and even more eliminations, it's come down to this — the final three contestants on the seventh season of American Idol. And so it was fitting that this trio of competitors would each sing three songs — one selected by an Idol judge; one of their own choosing; one dictated by the hit show's producers.
But before the show could even begin, the contestants were given an object lesson — in the form of Season One runner-up Justin Guarini — in just how important it is to be crowned the Idol champ. According to an in-audience witness, when the puffy-haired singer, who came in second to original Idol Kelly Clarkson back in 2002, entered the studio on Tuesday night, the star of notorious box-office bomb From Justin to Kelly "went practically unnoticed as he walked to his seat and got a weak applause when the warm-up guy announced him to the crowd."
Article continues below advertisement
Ouch.
Conversely, the finalists saw the kind of attention a bona fide success merits when singer Gavin DeGraw snuck through the mosh-pit area near the stage to get to his seat. And even though fans and celebs will line up to say hi to Idol judge Randy Jackson, the big dawg made a bee line straight to Gavin's seat for a quick, pre-show chat.
Surely Randy's fellow judge Paula Abdul would have liked to join in on that discussion — if she hadn't shown up late again! The "nice judge," well-known for her last-minute entrances during the live broadcasts, actually had to sneak out to her seat after the broadcast had begun.
When it finally came down to performance time, ever-ornery judge Simon Cowell chose Roberta Flack's "The First Time Ever I Saw Your Face" for swirly haired singer David Cook to croon, claiming that "many former girlfriends say I inspired the lyrics." Maybe, Simon, but from the audience it was hard to tell if Cowell's current girlfriend, Extra correspondent Terri Seymour, agreed. At the very least, Terri certainly enjoyed David's take on the song, standing to applaud after he was done.
Article continues below advertisement
After the first round of performances, Gavin DeGraw was pointed out to the crowd, earning the rocker a big round of applause. One Swedish girl in the front of the mosh-pit publicly requested that DeGraw change the date of his upcoming concert in Sweden so she could make it to the show.
For his personal choice, David Archuleta stepped a bit out of character to take a stab at Chris Brown's "With You." Following the oddball performance, Simon likened it to "a Chihuahua trying to be like a tiger" – a reaction that got a big laugh out of DeGraw.
Syesha had a celebrity fan of her in own in actress Marilu Henner, who moved to her front row seats just before the show started. The TV star and author was up on her feet and dancing to Syesha's performance of "Hit Me Up" from the Happy Feet soundtrack.
During a commercial break, two lucky kids, George and Robbie McGlashan, scored autographs on their American Idol shirts from Simon and Paula. But as their mom, Marie McGlashan told OK! "They're hoping to get David Cook's autograph too."
Article continues below advertisement
The McGlashan family weren't the only ones with Cook fever last night. Idol producer Nigel Lythgoe appeared to clearly favor the bartender-turned-star. After Cook's rendition of Aerosmith's "I Don't Want to Miss a Thing," Lythgoe was raising his fists over his head and dancing around in joy. (The song's writer, Dianne Warren, was on-hand and also appeared to approve.) But when buzzkill Randy didn't give the performace the rave reviews Lythgoe was looking to hear, the AI producer was overheard asking, "What's with Randy?"
So what did you think? Does Syesha have enough momentum to carry her through to the finals? Or will it be a battle of the Davids?