NEWS
Fired Celebrity Apprentice Gene Simmons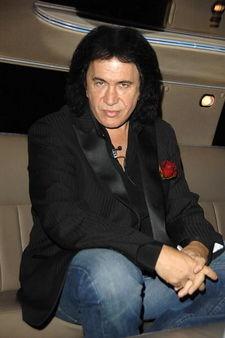 I knew it was a bad sign when Fired Celebrity Apprentice Gene Simmons, who left undefeated men's team Hydra to become team leader of all-female Empresario, didn't get the key piece of marketing needed to win the Kodak Challenge last week. It left the door open for Hydra to take it, even with a trailer that looked like it had been thrown together by five-year-olds (no offense to today's smartest kindergarteners!). While his decision led to his ousting, Gene stands behind his concept.
Article continues below advertisement
  "They are not qualified to know anything. I have guitar picks older than they are," says Gene of the Kodak executives who picked Hydra's campaign touting Kodak's affordable ink over Gene's "It's A Kodak World, Welcome" slogan. "Their position for selling ink – letting people know that it's cheap – is the worst thing you can do for a company whose stock prices are dying. You have to prop up the brand name Kodak and its quality. You have to give it a Rolls-Royce finish, not talk about being how cheap it is."
  The legendary rocker was prepared to take full consequence for his team's loss. "I wasn't going to blame any of the ladies because I was team leader and I told them what I wanted to do," he explains. "I engaged them in a think tank discussion, and then I decided what the campaign was going to be … that's it. No discussion. Democracy is highly over-rated. A benevolent dictatorship actually works. And because of my leadership qualities and my ethical and moral responsibilities, I couldn't blame anyone else for the Kodak executives not understanding what I wanted to do."
Article continues below advertisement
  So that's why he took seemingly sacrificial lambs Omarosa and Jennie Finch into the boardroom, despite Donald Trump's insistence he pick Nely Galan? "Every one of those ladies could have been fired," Gene declares. "Not because each of them isn't good, they don't know how to work as a team. It may be biological; by the way...Whether it is sports or gangs, men, even though they have a pecking order, they have to work as teams. Women don't. There is no teamwork, there is no sisterhood."
  Gene isn't totally a goner from the Thursday night lineup. He guest stars tomorrow night on Ugly Betty, airing Jan. 24 at 8 p.m. on ABC. "I'm think I'm Amanda's father, but I've been asking every girl I've met, probably everyone I've ever met, 'Who's your daddy,'" he says. "Finally Amanda answered."
The entrepreneur is now busying himself with Vol. 3 of the multi-platinum "KISSology: The Ultimate Kiss Collection," an upcoming season of Gene Simmons Family Jewels on A&E and countless business opportunities that happen beyond the camera's lens. Says a confident Gene, "I could have beaten both teams on my own. Every day I'm given the chance, and I prove it every day, because companies pay me tens of millions of dollars to do what I did on the show for free."
Article continues below advertisement
  I was lucky enough to get Gene's plan for succeeding in life at absolutely no charge. "Get up every day and treat it as the only day you'll ever have to live," he declares. "Get off your butt and go do something. Make every hour count. There are a lot of people out there who want to give you money and emotions and fulfillment, and you got to go find them."
  True dat! Gene also revealed who's going to take Celebrity Apprentice. "Donald Trump, he's the only survivor," he laughs.
  The Celebrity Apprentice airs Thursdays at 9 p.m. on NBC.