NEWS
Fired Celebrity Speaks: Vinny Pastore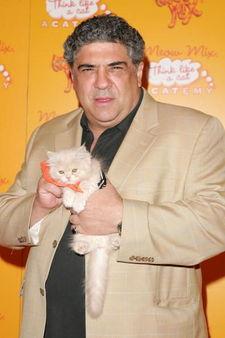 Not many people get to tell Donald Trump "I quit!" But ousted Celebrity Apprentice Vinny Pastor, who played double agent against his own all-male Hydra team last week, got his chance when he resigned from the competition. Here's why he decided to get out, before he got whacked.
Now that you've had some time, do you regret resigning?
When I look at the show again, I realize I was little impulsive by saying I would resign. Maybe Mr. Trump would have fired Piers Morgan. He wanted me to be fired. He needed Stephen Baldwin, didn't want to get rid of Trace Adkins and in no way was he going to get rid of Lennox Lewis. So he did everything possible to make me look bad.
Article continues below advertisement
Have you two made up?
He's not somebody I socialize with; he lives in London. Will I see him again, I'm sure, but he's not somebody I'd go to dinner with. You're playing for charity, and. I was trying to have fun with it. I was truthful. It's not all about winning.
Who's in it just to win it?
Not Gene Simmons, not Tito Ortiz, not Lennox or Trace. Piers and Omarosa.
The Celebrity Apprentice is coming back for a second season. Who would you like to see on the show?
I heard that Donald wants to get Paris Hilton or Lindsay Lohan. I think it would be great for their image. It is for charity.
Did you know the show was going to give you a Sopranos-like send-off?
No, that was a big secret. When the screen went black, I was in my hotel room and I freaked. I was laughing to myself. I thought that was genius! I think Marilu Henner had me whacked!
The Celebrity Apprentice airs Thursdays at 8 p.m. on NBC.