NEWS
First Look at Brad Pitt & Sean Penn in 'Tree of Life'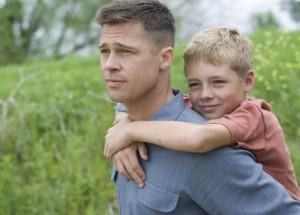 Finally a first look at Terrence Malick's highly-anticipated drama Tree of Life starring Brad Pitt and Sean Penn. Fox Searchlight released two photos of the film, set to hit theaters in May 2011. And if the picture tease isn't enough for you, audiences who go see the dramatic thriller Black Swan this weekend will get to see the full trailer for the flick!
Hitting the box office May 27, little is known about Tree of Life and the pictures, via the L.A. Times, are heightening bewilderment as well as excitement.
Article continues below advertisement
The plot centers around a family with three boys in the 1950s, and it follows "a Midwestern boy's journey from the innocence of childhood to his disillusioned adult years as a lost soul in the modern word and his quest to regain meaning in life," according to a description via Moviefone.
Catch the stills below! Brad is certainly looking young and spry!