NEWS
A First Look At Kim Kardashian's Wedding Dress!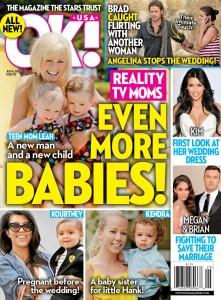 The Keeping Up With The Kardashians cameras rolled as Kim Kardashian hit the Vera Wang Bridal Salon on Madison Avenue in NYC on June 27, to finalize the plans for the most important thing she'll ever wear — her wedding dress! "I am so excited!" said Kim of wearing the gown of a lifetime to walk down the aisle.
"I still want to be myself, but I want it to be so different." "Everything became real when Kim tried on gowns for the first time," a Kim pal tells OK!. "When she tried on a veil, she started to tear up. She said she knew it was all meant to be! She's on cloud nine right now."
Article continues below advertisement
During her visit to the boutique, Kim, who had sis Kourtney and some trusted pals with her, modeled "strapless bodices and different-shaped skirts, everything from slinky satin to fuller mermaid style," to see what suited her, says a pal. "She wants it to be a little bit of high fashion, but also timeless, classic and classy. It will be ivory, and most of the detailing will just be stitchwork or beading," adds the friend.
Kim's taking her inspiration for the dress, which she said will be very Old Hollywood, from famous gowns she loved. "I have been pulling tears of dresses from magazines I really admire on women I've seen... like Christina Aguilera's dress — the shape of it was beautiful," said Kim.
Article continues below advertisement
"I even YouTubed Carrie from the Sex and the City movie, when she tried on all those dresses." She's taking "bits and pieces" from all the dresses to create something that's perfect for her. "Kim is being super hands-on, and she's making all the decisions so there's no room for any of us to screw up her big day," a pal jokes. "But she's being open-minded to what Vera Wang and her family has to say."
FOR MORE ON KIM'S DREAM WEDDING GOWN, PICK UP THIS WEEK'S ISSUE OF OK! - ON SALE EVERYWHERE NOW!