NEWS
First Look at New 'Thundercats' Animated Series!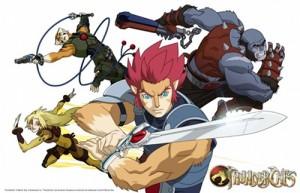 Thundercats is set to premiere this year and now there's the first image of what you can expect the animated series to look like!
OK! NEWS: WATCH TAIWANESE ANIMATORS TAKE ON RICKY GERVAIS' GODLEN GLOBES UPROAR
Thanks to Warner Bros. Animation and MTV News, here's a sneak peek image of the new Thundercats series coming to Cartoon Network featuring Lion-O, Panthro, Tygra and Cheetara. Lion-O is holding the Sword of Omens fiercely up in front!
Article continues below advertisement
"Roaring to life through WBA and Studio4°C's use of the Japanese animated artistry of anime, ThunderCats characters Lion-O, Mumm-Ra, Panthro, Cheetara and others will spring off the screen with realistic cat-like characteristics inconceivable in previous incarnations," the official press release states (via MTV News).
OK! NEWS: TONY PARKER'S ALLEGED SCANDAL GETS ANIMATED
"The new ThunderCats will appeal to viewers who have loved the characters all their lives as well as young newcomers to the franchise," the statement continues. "A sweeping tale combining swords and science and boasting ferocious battles with the highest of stakes, the grand origin story of Prince Lion-O's ascension to the throne - and of those who would thwart his destiny at any cost - takes on epic dimensions in this sharp new telling."
"As the forces of good and evil battle each other in the quest for the fabled Stones of Power, Lion-O and his champions learn valuable lessons of loyalty, honor and mortality in every episode."
What do you think of the first look?