NEWS
First Photos of Rihanna Since Alleged Attack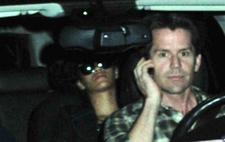 Surely this is not the way Rihanna had planned on spending her 21st birthday, hiding from the public while her former boyfriend Chris Brown faces serious charges following an alleged altercation between the two on Feb. 8.
After the incident, which took place the night before the couple were slated to perform at the Grammys, the Barbados-born singer had flown home to her family in the Caribbean.
Now, after weeks of staying out of the limelight, the recently reclusive star has returned to the States and was photographed last night after leaving her L.A.-area home on the eve of her 21st birthday.
Article continues below advertisement
A statement from her rep says:
"At the request of the authorities, Rihanna is not commenting about the incident involving Chris Brown. She wants to assure her fans that she remains strong, is doing well, and deeply appreciates the outpouring of support she has received during this difficult time."