NEWS
For the first time in a decade...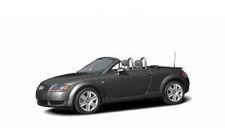 Wooohooo.
I did something today I haven't done in almost ten years – I bought a car!
I met a few people from Audi over the weekend at the Audi Forum in Scottsdale for Super Bowl and I'm so happy they recommended I start my car search at Downtown LA Audi.
Nabeel and Zach were great and I bought the first car I saw! Buying a car actually isn't that fun, but truth be told, the most nerve-wracking part of the process for me was test driving the car! As a New Yorker for the last seven years it's been that long since I've driven so I felt like I was taking my road test! At first it was kind of shaky and I thought LA smelled really bad with the top down – but then Zach pointed out that I'd been driving with the emergency break up! Forgot about those. Once I put it down it was smooth sailing and I owned the car an hour later ;) I've since learned Christian Slater (my pin-up pre-teen crush) also got an Audi this week, the $80,000 model a salesperson referred to as "The Big Kahuna," Steven Spielberg had an Audi custom-made with Sherwood Green inside and out as a college graduation present for his son and Elton John will personally pick up a black Audi currently shining in the showroom – you can stop by and gawk at the beautiful Audi Elton will soon own until he comes back from Europe to get it.
Article continues below advertisement
Pictured: Meet my car. Well, this isn't the actual one I own, it just looks like my car. I took photos but am having technological difficulties uploading them so this will have to suffice just for now, many more photos to come when I pick it up after officially moving to LA in about two weeks!