NEWS
Flashback! Watch How Amanda Bynes Once Swore She Would Never Be Like Lindsay Lohan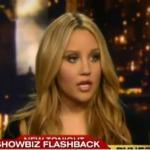 Remember when Amanda Bynes was 21-years-old, and her future was bright?
After Amanda's odds antics over the past few months, it's hard to believe that the former Nickelodean star was once so well spoken and put together. Check out the above recently re-discovered 2007 interview with Amanda, beginning at about the one-minute mark, to see what we mean.
OK! News: Amanda Bynes Confronts News of Police and Celeb Interventions
Article continues below advertisement
In the interview, Amanda laughs when she's asked how she's managed to avoid becoming like other troubled starlets.
"It's shocking how it's become popular to go to rehab," she says. "It's very odd. But I would guess I would say I'm very lucky. I have a great family, and I just have my eye on the prize, which, for me, is a long career. I don't want to blow what I've worked so hard to achieve."
Amanda recently announced that she is over acting for good.
"The club scene and drinking doesn't appeal to me," she also swore when specifically questioned about Lindsay Lohan, who is around her age. "I've never even been offered drugs. Birds of a feather flock together, and I certainly don't fly with that crowd."
Watch: Amanda Bynes' Strangest Video Yet
Amanda may not fly with Lindsay's crowd, but the two now seem to be in the same boat.
What's happened to the Amanda fans once knew, loved and respected? Is that girl lost for good? Tell us what you think in the comments section or on Twitter @OKMagazine