NEWS
Flo Rida on Working With Ke$ha: "I Just Felt She Was a Superstar"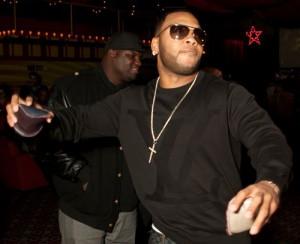 While promoting his new album Only One Flo (Part One) at Carnival Wednesday night in NYC, Flo Rida took some time out to speak to OK!.
OK! VIDEO: KE$HA'S NEW VIDEO FOR "WE R WHO WE R" OVERDOSES ON GLITTER
Why does he think every song he releases always does well?
"It's all spur of the moment for me. Records like 'Club Can't Handle Me' just entertain you. When you hear the production, when you hear just the whole lyricism, the words club can't handle me, I just feel like it's a big anthem for going to the club. It's just the effort that I put in recording records, whether I'm in a hotel room, making sacrifices."
Article continues below advertisement
His hit "Right Round" featured a then unknown Ke$ha, how was it working with her then?
"Oh man, just me and her early on, just being in the room with Dr. Luke, just her aura. I just felt she was a superstar. At the time she was writing and just very passionate. Just to see her so successful and to have worked with her it's an honor."
OK! GALLERY: LADY GAGA — THREE OUTFITS, TWO HAIRDOS, ONE DAY
He also revealed to OK! he would certainly work with her again. He would also work with Lady Gaga again!
"She is one of those artists who is very creative, and she is one of those artists who puts a smile on fans around the world. I wouldn't mind."
Flo Rida shared with OK! why he's so excited about Only One Flo: "Just being able to put out a third album with relevant, hot records on a worldwide spectrum. I've started to be my own entrepreneur and continue to put out music."
Who would he love to collaborate with next?
Article continues below advertisement
"I went on tour with Beyoncé, I wouldn't mind doing a record with her."
OK! GALLERY: JUSTIN BIEBER ARRIVES LATE TO THE IRONIC MUSTACHE GAME
We might even be able to look forward to a duet with Bieber!
"I wouldn't mind. I actually met Justin Bieber one time. He was doing a radio event and we almost shared the same dressing room but it just had a curtain between us and I heard someone singing and I thought it was the radio but it was the kid next door. I went over and was like 'You have an amazing voice.' He went out and rocked the crowd and they loved him then. Justin Bieber, the success he has now is just amazing."
Later that night, Flo Rida rocked the crowd at Tenjune performing three songs of his new album. Only One Flo (Part One) is available in stores now.