NEWS
Florence Welch Says She "Came to the Studio With a Hangover" for "Shake It Out" Video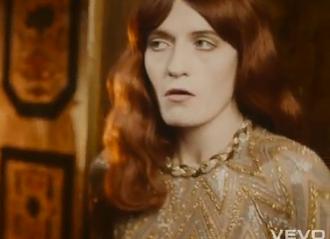 Happy Halloween Florence + The Machine fans! The music video for "Shake It Out" — the debut single off the groups sophomore album, Ceremonials — has been gaining more and more buzz since its release this month, and Florence Welch herself is dishing all about it!
The video has an Annie Lennox 1980's vibe, with elaborate costumes and rich scenery.
Florence told MTV that she wasn't feeling 100 percent when she filmed the video.
Article continues below advertisement
"I think I came to the studio with a bit of a hangover, and it was one of those strange days where you're not really sure where a song comes from," she explained. "Producer Paul Epwoth just had these chords on the organ, and they sounded optimistic and sad at the same time.
As for the song's meanings, Florence said, "I was thinking of regrets, like, you know when you feel like you're stuck in yourself, you keep repeating certain patterns of behavior, and you kind of want to cut out that part of you and restart yourself?"
She added: "So this song was kind of like, 'Shake yourself out of it, things will be okay.' Because sometimes I have to write songs for myself, reminding me to let it go. But then, the end refrain of 'What the hell?' is really important as well, because you'll dance with the devil again at some point, and maybe it will be fun. I've heard he does a really good foxtrot."
Catch the clip, via YouTube, below! Are you ready for Florence And The Machine's sophomore album?