NEWS
Foo Fighters Frontman Dave Grohl Disses 'Glee' in Expletive-Laden Rant Against Ryan Murphy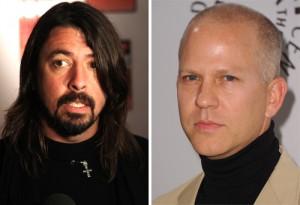 It's like the Kings of Leon war all over again. Foo Fighters frontman Dave Grohl lashed out against Glee creator Ryan Murphy in an expletive-laden rant demanding it is every band's right to deny the hit FOX show.
Dave doesn't like the pressure Ryan puts on bands to give permission to use their songs.
"It's every band's right, you shouldn't have to do f***ing Glee," Dave told The Hollywood Reporter. "And then the guy who created Glee is so offended that we're not, like, begging to be on his f***ing show... f**k that guy for thinking anybody and everybody should want to do Glee."
Article continues below advertisement
The rocker also addressed the fallout between the Kings of Leon and the Glee creator earlier this year, when a war battled brewed after KOL turned down Glee and their drummer, Nathan Followill, with what some called a homophobic rant.
"And then Kings of Leon say, 'No, we don't want to be on your show.' And then he's like, 'Snotty little assholes…' And it's just like, Dude, maybe not everyone loves Glee. Me included," Dave said.
Ryan retaliated against KOL, telling THR in January: "F**k you, Kings of Leo. They're self-centered assholes, and they missed the big picture. They missed that a 7-year-old kid can see someone close to their age singing a Kings of Leon song, which will maybe make them want to join a glee club or pick up a musical instrument. It's like, OK, hate on arts education. You can make fun of Glee all you want, but at its heart, what we really do is turn kids on to music."
Article continues below advertisement
In response, KOL drummer Nathan said, "Dear Ryan Murphy, let it go. See a therapist, get a manicure, buy a new bra. Zip your lip and focus on educating 7yr olds how to say f**k."
Wonder if Ryan will take the time to respond to Dave's rant.
The Foo Fighter did admit to watching some of the show.
"I watched 10 minutes. It's not my thing," he said.
Do you side with Dave? Do you understand his stance? Share your thoughts in the comments!