NEWS
Forget Jimmy Fallon & Charlie Sheen, Bring On the Ben & Jerry's Ice Cream!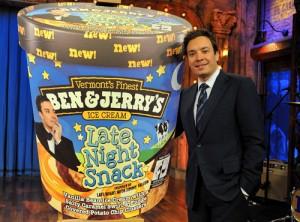 It's not every day somebody gets their own ice cream flavor! But Jimmy Fallon is not just any guy. Ben & Jerry's recognized this and partnered up with the late night host to launch their newest flavor "Late Night Snack."
"Last Night Snack" was inspired by Jimmy  and his house band, The Roots', sketch entitled "Lady Smith Snack Mamabzo," in which the group chanted their love for Ben & Jerry's ice cream.
Article continues below advertisement
Jimmy told OK! exclusively that they only do these sketches for items they really love!
"I think we did our sketch out of love for Ben & Jerry's. We didn't do it for free ice cream. We do it out of love. We do it because we think it's funny and if it's a good joke, if the writers think it's funny, we do it."
He added, "We don't go through sales department; we don't go, 'Hey you know hot pockets they want you to do a song about them.' We did a song about hot pockets. They don't want us to do anything, they just say thank you so much. We do it because we love it. We've done hot pockets and Ben & Jerry's because we actually like both of those things."
"Late Night Snack" is the perfect combination of salty and sweet and includes vanilla ice cream, caramel swirls and chocolate covered potato chip clusters!
Jimmy still can't believe he has his own ice cream flavor, telling OK! "I was talking to my wife and she was like did you ever dream you would have your own flavor ice cream? I was like 'Never!'"
Not only is it a great ice cream flavor, but NBC and Jimmy have pledged their share of the proceeds to Fair Trade Universities to encourage the use of Fair Trade products on campuses around the country.
Article continues below advertisement
This holds special meaning for Jimmy since college kids are a big part of his core audience!
OK! NEWS: TOP CHEF RECAP — CONTESTANTS CATER JIMMY FALLON'S BIRTHDAY PARTY
Jimmy may have love for his fans, but Stephen Colbert better watch out.
When asked how his flavor stacked up against Stephen's "Americone Dream," Jimmy didn't even want to respond!
He told reporters, "Stephen Colbert is a jealous son of a bitch. I wish to never see that man's ice cream flavor next to mine; in fact mine has to be separated from his flavor. Americone Dream is his? Oh my gosh, ice cream cones in ice cream what a genius idea! He's a friggin genius, he's Albert Einstein. Whatever. I don't even want to discuss it. His is not fair trade."
You can find Jimmy's new flavor (fair trade and all!) in Ben & Jerry stores and supermarkets around the country starting this week!
Get "The Scoop" on Jimmy's new ice cream in the clip below, and visit BaderTV for more video footage!