NEWS
Forget Klingon, 'Avatar' Star Zoe Saldana Speaks Na'vi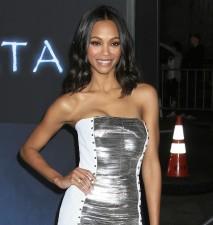 Sure Zoe Saldana is the new queen of sci-fi with the body of the goddess to boot, but that didn't convince James Cameron to cast her as Neytiri in Avatar. It was her ability to speak the movie's made-up language that sealed the deal.
"A lot of the characters would have to speak Na'vi," James told reporters at the Avatar premiere in LA last night.
"Zoe nailed it and she had already been cast so, that was an act of fate, but because she was multilingual we knew she would be pretty good with it."
Article continues below advertisement
And the downside of being fluent in a fantasy language? "Speaking English with a Na'vi accent," says the Star Trek actress.
James Cameron asked a linguist to create the Na'vi language specifically for the movie, but only time will tell if it becomes the new Klingon!
Reporting by Gena Oppenheim