NEWS
Former Beauty Queens Battle it Out on 'Minute to Win It'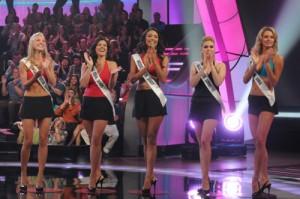 Beauty queens will be battling it out tonight on NBC's Minute To Win It! The hit game show will feature former Miss USA and Miss Universe titleholders competing against one another in a special episode airing tonight, Monday, Aug. 23.
The former Miss USA and Miss Universe titleholders will compete against one another in a themed hour named "Last Beauty Standing," on the hit NBC game show hosted by Guy Fieri.
Article continues below advertisement
Their first challenge is the popular game "Hanky Panky," where using only one hand the contestant must pull all of the tissues out of a tissue box. The contestant that finishes the game last is eliminated. After ten rounds the last remaining beauty queen will win the grand prize for her charity.
Check out the list of respective beauty queens and their charities!
Chelsea Cooley (Miss USA 2005) - Masters Inn Ministries Inc.
Kristen Dalton (Miss USA 2009) - USO
Shandi Finnessey (Miss USA 2004) - Stray Rescue of St. Louis
Wendy Fitzwilliam (Miss Universe 1998) - Keep A Child Alive
Brook Lee (Miss USA & Miss Universe 1997) - Hawaii Youth Opera Chorus?Shanna Moakler (Miss USA 1995) - Children's Burn Foundation
Riyo Mori (Miss Universe 2007) - Make A Wish Foundation International?Justine Pasek (Miss Universe 2002) - Orphaned Starfish Foundation Inc.?Zuleyka Rivera (Miss Universe 2006) - American Childrens Cancer Association Inc.
Rachel Smith (Miss USA 2007) - Boys and Girls Club of America
The "2010 Miss Universe Pageant" will air live (9-11 p.m. ET) on NBC immediately following Minute To Win It (8-9 p.m. ET) from Mandalay Bay Resort & Casino in Las Vegas.