NEWS
Former Roxie Hart Sam Harris Puts Her Heart Behind Ashlee Simpson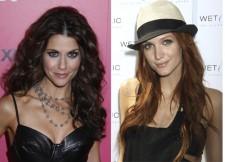 After rumors circulated that Ashlee Simpson will be heading to Broadway to play Roxie Hart in Chicago, Dancing With the Stars' Samantha Harris was quick to sing Ash's praises, E! News reports. Samantha says she would be more than pleased if Ash starred in her former role. "Ashlee is adorable and talented." Samantha gushes. "She can bring in a younger audience plus she has some international appeal."
Article continues below advertisement
After a successful run as Roxie Hart on the London stage, Ashlee seems like a smart choice for the NYC production of Chicago. Broadway spokesperson Jeremy Shaffer said last week he could not confirm Ash's return to the stage, but did confirm that Dancing With the Stars' celeb Cheryl Burke will not be starring as Roxie.
This is a role near-and-dear to Ashlee, who surprised many London theatergoers when she took over the role of Roxie for a five-week run in the fall of 2006.