NEWS
Former Weezer Bassist Mikey Welsh Dies at 40; Predicted His Death On Twitter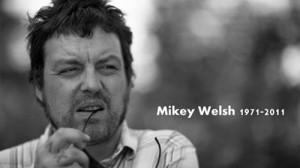 Mikey Welsh, the former bassist for the beloved rock band Weezer, died unexpectedly Saturday in Chicago. He was 40.
Darryl Baety, a Chicago police spokesman, said, via CNN, that officers responded at 1:45 p.m. Saturday to a call from the Raffaello Hotel regarding a guest who had missed scheduled check out.
The cause of death was not immediately known.
Article continues below advertisement
Baety said the person was "unresponsive and not breathing."
An investigation is underway surrounding Mikey's death, as well as pending autopsy results.
Mikey left Weezer shortly after the release of the band's Green Album in 2001 which featured the hit "Hash Pipe," one of the biggest tracks ever for the group.
He left to pursue art and develop his prowess as a painter.
Weezer released the following statement on the band's website: "It saddens me and the guys in Weezer so much to say that our beautiful, creative, hilarious and sweet friend Mikey Welsh has passed away at the very young age of 40. A unique talent, a deeply loving friend and father, and a great artist is gone, but we will never forget him. His chapter in the Weezer story ('98 – '01) was vital, essential, wild, and amazing."
Weezer played its scheduled show during Chicago's RIOTfest on Sunday, dedicating the concert to Mikey.
Mikey suffered a nervous breakdown in 2001 shortly after his departure from the band.
He was an active Twitter user and in a cryptic message on his feed, he predicted his own death.
"dreamt i died in chicago next weekend (heart attack in my sleep). need to write my will today." Mike Tweeted on September 26.