NEWS
The Four 'Teen Mom 2' Spinoffs We Could See Happening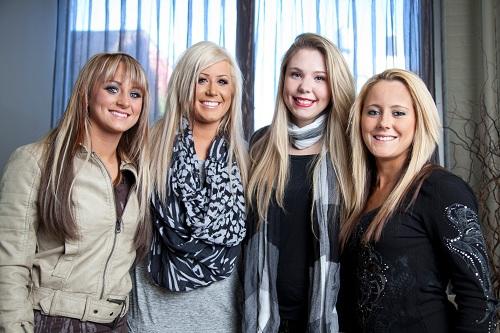 We know we don't have to wait long for more Teen Mom 2—season 4 premieres Feb. 18! (Wow, that was fast! Thanks, MTV!) But we still can't help worrying about what happens when that season is over. Teen Mom ended after four seasons, and with the recent rumors regarding the network's struggle over how to handle Jenelle Evans' personal drama with filming, we can't be sure Teen Mom 2 won't end after four seasons as well. Last week, we brought you ideas for spinoffs for each of the girls from Teen Mom. Here are our ideas for Teen Mom 2!
Article continues below advertisement
RELATED NEWS: THE PAST WEEK IN TEEN MOM NEWS: TEEN MOM 2 SEASON 4 PREMIERE DATE ANNOUNCED, JENELLE EVANS ACCUSED OF FAKING MISCARRIAGE
Leah already has twins and she's ready to pop at any moment, but for some reason we don't think her next baby will be the last. We can totally see Leah with her own "look at my giant family" show on TLC. And all the kids will be girls. We just have a feeling. We see Leah, Jeremy Calvert and all their girls in a giant house with lots of pink, lots of glitter—and lots of laughter. Seriously, we're positive Leah has an unlimited amount of love and patience, which you need in order to be the matriarch of a large family. It might take a few years, but we would not be surprised to see her back on our televisions in this role!
We're interested in learning more about Kailyn's family. When she went to Texas to visit family she never speaks to, we were intrigued—we want to know more! We can see Kailyn on a journey (with hubby Javi Marroquin by her side) to learn more about where she and her son Isaac come from. Most importantly, we think Kailyn has an inner strength that will allow her to deal with an emotional journey such as this. We'd support her the whole way!
Article continues below advertisement
There is nothing more we want to see than Chelsea finally, permanently, kicking Adam Lind to the curb. Ditching a bad boyfriend can be a tough task for anyone, but when you got pregnant at 16 and that bad boyfriend is your baby's father, it will be even harder. Chelsea deserves to take some time to find herself—we think that will be the only foolproof way for her to gain the strength she needs to permanently squash her feelings for Adam. We'd love to see her—and daughter Aubree—go on a fabulous mother-daughter tour of the country, the world, wherever the wind blows. Talk about an amazing bonding experience!
Which of the girls from Teen Mom 2 would you most like to see in their own series? Let us know in the comments or tweet us @OKMagazine!