NEWS
Freddy Rodriguez's Mini-Me Grows Mustache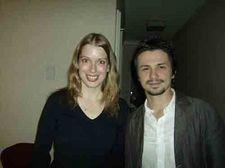 Freddy Rodriguez, 33, is starting to feel old now that his kids are growing up.
"I have a 13-year-old, so my son has a mustache and is starting to go through puberty, which is weird because I still look young," Freddy tells me. "It's starting to look weird when I walk down the street with him. I'm starting to look like his big brother rather than his father. But he's great. The kids are just doing stuff that regular kids do nowadays and I'm enjoying seeing them grow up."
Article continues below advertisement
What's the best thing about being a dad for the guy who plays America Ferrera's love interest on Ugly Betty?
"Having two people 100% depend on you, and you being responsible for molding their lives. I love that responsibility."
When Freddy was growing up, his favorite toy was Transformers.
"I even went on eBay before the movie came out and re-bought a toy I have."
Luckily, with a movie-star dad like Freddy, his tots can get more.
His Bottle Shock costar Rachael Taylor appeared in Transformers.
"I've got some sitting in my closet you could have," she says.