NEWS
French 'Snow White and the Huntsman' Poster Released With Kristen Stewart, Charlize Theron & Chris Hemsworth!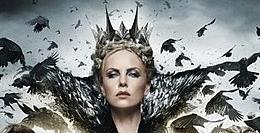 Article continues below advertisement
"Snow White is this great action-packed revenge movie," Kristen says in a behind-the-scenes featurette which highlighted the many differences between this movie and the Julia Roberts/Lily Collins film, Mirror, Mirror, which is also based on the fairy tale.
During a Today show interview last month, Charlize shared: "I think these stories thematically bleed into a lot of stuff that is very relevant. So I'm not shocked that we're having an outbreak of these classic fairy tales being retold."