NEWS
Kristen Stewart & Charlize Theron Talk 'Snow White', 'Hunger Games' & Adoption on 'Today'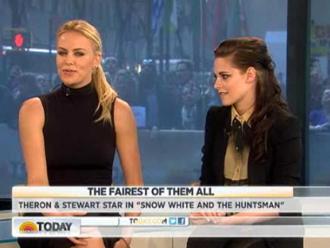 Kristen Stewart and Charlize Theron star in the upcoming Snow White and the Huntsman action movie, but before their film hits theaters another Snow White film, Mirror, Mirror, will debut. So, why is Snow White so hot right now?
OK! GALLERY: KRISTEN STEWART & ROBERT PATTINSON JET OUT OF PARIS TOGETHER
"It's kind of like Coca-Cola and Pepsi?" Charlize joked this morning on Today show to Matt Lauer. "I think these stories thematically bleed into a lot of stuff that is very relevant. So I'm not shocked that we're kind of having an outbreak of these classic fairy tales being retold."
Article continues below advertisement
"I also think that there's a way to do them in different world and I think that's what the case is with this," she added. "I don't think Universal would have backed this film the way they have if they thought that we were playing to the same audience as the other one."
OK! NEWS: CHARLIZE THERON SAYS NEWLY ADOPTED SON JACKSON IS "DOING GREAT"
Matt also asked Twilight star Kristen about her thoughts on The Hunger Games and whether she thinks they will experience something similar to the "publicity storm" Twilight faced.
"Shake your glass ball," Charlize joked. "Tell us."
"I don't know," Kristen said. "I hope so... It's so obvious that no one signed on to that project to do the next big thing, and I think that's the coolest way to see something get big. Hopefully. I would love them to be happy to be doing what they're doing. I can't wait to see the movie."
And Matt also congratulated Charlize and the adoption of her new baby boy, Jackson.
"It's going amazing, yes," Charlize said with a big smile. "He's scrumptious and delicious. Yeah, it's incredible."
Snow White and the Huntsman hits theaters June 1.
Watch a clip of Kristen and Charlize on Today, below.
Visit msnbc.com for breaking news, world news, and news about the economy