NEWS
Frenchie Davis Faces Throat Surgery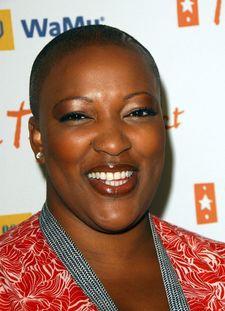 Frenchie Davis, the big voiced American Idol contestant who went on to star in the Broadway hit, Rent, is undergoing surgery to remove a polyp on her vocal chord.
Davis says the condition caused her to become tired and hoarse after performances. And although she says she's eager to fix the problem, she is still a bit apprehensive.
"I've talked to other singers who had surgery. One girl said her voice went up. Others' voices got clearer," Davis says. "I'm just excited to see and and little nervous, of course. It's still surgery."
Article continues below advertisement
Davis says her main concern is that she might lose her vocal range, but says her surgeon has assured her that won't happen. Doctors had been monitoring the polyp on her left vocal chord; when it grew, they advised her to get surgery to avoid any long-term damage. The former Idol contestant says her condition is likely from overuse and singing improperly.
"I was doing eight shows a week of Rent for four years," she says. "Now I need a vocal coach to make sure I'm singing properly so it doesn't come back."
Davis' surgery is scheduled for the end of April and recovery will take about a month. That will still allow her to go ahead with her national tour, Ain't Misbehavin', co-starring Idol winner Ruben Studdard. The tour is set to begin this fall in New York.
In 2003, Davis was dropped from Idol because of a previous appearance on an adult Web site. In contrast, the Fox talent show took no action this season when contestant David Hernandez's stint as a nightclub stripper was revealed or when racy photos of Antonella Barba surfaced last season on the Internet.
''I guess I had to be thrown to the wolves to afford these other contestants the luxury of being judged on their talent,'' said Davis, 28. ''I guess that's what needed to happen.''
It was ''interesting,'' she added, that she was punished for something she did at age 19.