NEWS
'Friday Night Lights' Star Minka Kelly is "Cool" With Her Flaws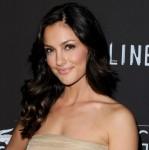 It's a double celebration for Friday Night Lights star Minka Kelly: She's been crowned the Sexiest Woman Alive and she's delighted about turning 30, declaring it, "the most exciting birthday I've ever had."
The hottie, currently posing in her underwear in Esquire, tells the magazine: "I've never done a sexy photo shoot before. I've never really honestly tapped into that side. It was really liberating. It was exciting. I would look at the pictures, like, that's me?"
Article continues below advertisement
The star has experienced another first — turning 30. "I think it's the most exciting birthday I think I've ever had," she says. "I'm so excited to be a woman. Done with the twenties.
"So what will her thirties bring? "I don't know. And I'm glad I don't know."
OK! VIDEO: LEIGHTON MEESTER IS A CREEPER IN THE ROOMMATE
She adds: "I'm confident...in my skin, and I'm cool with my flaws and all that stuff. It just feels nice to be at peace with yourself. I think my thirtieth birthday gave me permission to have all that."
The actress, who is in a long-term relationship with Yankee Derek Jeter, also opens up about her unconventional childhood.
OK! NEWS: DEREK JETER AND MINKA KELLY BUILDING LOVE NEST IN FLORIDA?
"My mom — for most of my life, she was a dancer. An exotic dancer. She was a stripper. Um, so she would come home at like three, four o'clock in the morning, and sometimes she would have a really great night, and so she would wake me up in the middle of the night and we'd go to Ralphs and go grocery shopping."
Facing various challenges in her teenage years have given Minka a gutsy approach to life. "No matter what you're doing, live it. Make an experience. Have fun. Relate to someone. Take them in. Learn. Right?" she says.
OK! VIDEO: ALYSON HANNIGAN & FRIENDS' "BOOBY SCARE" PSA
"Or else you're wasting your time. And time is precious. I didn't go to theater school. I didn't go to Julliard. But I've lived a lot. I've seen a lot. I feel like that makes up for a little bit. I've lived a lot at my young age."