NEWS
Friend of Jaimee Grubb Says Tiger Sent X-Rated Texts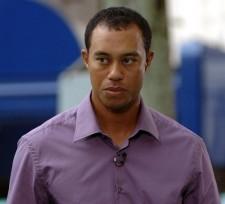 A friend of Tiger Wood's alleged mistress, Jaimee Grubb, sat down for an on-camera interview with E! News and shared all she knows about her friend's alleged affair with with the golf superstar.
"It seemed like she genuinely had feelings for him," the friend of the 24-year-old said. "It seemed like it had every element of a relationship. She mentioned they watched movies, played video games."
They even sent each other text messaged — X-rated ones.
Article continues below advertisement
"She read a couple of his text messages to us and she showed us a couple," the friend explained. "I don't know the exact wording but they were definitely X-rated."
The former friend of Jaimee also shared how Tiger and the San Diego cocktail waitress met, how they were in bed and how Jaimee dealt with Tiger being a married man.
"She said she was at a club in Vegas when one of the VIP hosts pulled her at his VIP table," the friend said of how they met. "He tapped her on the shoulder and said something like, 'Are you having fun?' or 'You're not having enough fun' or something along those lines."
Whatever he said, it seemed to do the trick.
"I think she went home with him that night to his hotel room," the friend added.
A few months after Jaimee met Tiger she was on her way to a girls' weekend in Las Vegas when she shared with her friends who she was texting the whole time.
"It came up pretty quickly," the friends said. "I think we were just talking about men or someone we were meeting or why we were going there. It was random the way it came up. She was on her phone the whole time."
Jaimee's former friend also talked about their sex life and how it was "pretty crazy" and shared that Jaimee didn't really care that Tiger was married with kids.
"I remember asking her on the way up and she said that she just put a blind eye to it," the friend shared. "She just played the dumb card and whenever it came up she just changed the subject or never let on that she knew he was married."
The friend met Jaimee just before going on their trip to Las Vegas in the summer of 2007 and stopped speaking a few months after they returned.