NEWS
'Friends' Reunion on Courteney's 'Cougar Town'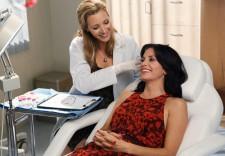 Attention all Friends fanatics! Lisa Kudrow will make a guest appearance on Courteney Cox's new sitcom, Cougar Town; however, the Monica Geller/Phoebe Buffay type friendship will not exist."They didn't want to play friends," executive producer Bill Lawrence tells Entertainment Weekly, who quickly came up with a different role for Lisa.
"She plays a dermatologist who is a horrible, horrible person, but Courteney goes to her because she's the best," Bill says. "The sight of them playing people who dislike each other intensely was very funny for me to watch." Bill says.
Article continues below advertisement
Recently, Courteney had to take care of some family issues, halting the production of Cougar Town. Everything is now back on track, and Jules Cobb is back on the prowl.
There was no information released on the nature of the "family matter," as both a network rep declined to elaborate as well as Courteney's personal publicist.
Lisa's appearance on Cougar Town is scheduled for January 6 on ABC. We wonder if Court's real-life BFF, Jennifer Aniston, will have a stint on the show?