NEWS
'Friends' Stars Matthew Perry & Matt LeBlanc Both Head Back to TV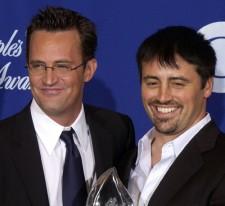 Former Friends castmates (and off-screen buds) Matthew Perry and Matt LeBlanc recently revealed they are preparing to re-enter the world of comedy TV. But don't get excited for a rekindling of the Joey and Chandler bromance— these pals will each star in a different show. Nevertheless, both Matts will most likely be welcomed back by Friends fanatics in their separate endeavors.
Last night, Matthew Perry confirmed on his Twitter page that ABC had officially picked up his show.
Article continues below advertisement
"Abc officially greenlit my pilot today. Yay! It's called Mr Sunshine. In other news, I thought the conan statement was fantastic."
Matthew was part of the NBC family while on Friends, making a jab at the network's late night show debacle. Looks like he is Team CoCo.
Mr. Sunshine stars Matthew as a sports arena manager who has a midlife crisis as he enters his 40s and is dumped by his girlfriends, Access Hollywood reports.
Showtime confirmed Matt LeBlanc's new series Episodes on Sunday and it will begin production later this spring.
The series is about a hit British comedy that is imported by an American network, which dumbs down the show and casts Matt in the lead role. Matt has to audition to play himself.
It looks like all the Friends' stars have moved on to further their careers. Jennifer Aniston has been focused on her film career, David Schwimmer debuted on Broadway, and most recently Lisa Kudrow (who has also starred in a string of flicks) guest starred on Courteney Cox's hit NBC show Cougar Town.