NEWS
Fun Facts to Know About Ne-Yo: He Admires Justin Bieber "Getting His Elvis Presley On!"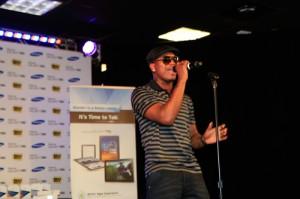 Ne-Yo made a lot of fans happy last week by playing a special mini-concert for the release of the Samsung Galaxy Tab 10.1 at Best Buy in NYC. Not only did he sing three songs, but he danced with special audience members and signed CDs for a long line of fans.
OK! NEWS: "SONGS FOR JAPAN" ITUNES ALBUM FEATURES 38 HITS BY MUSIC'S BIGGEST NAMES
Ne-Yo talked to OK! exclusively and here are four things we think you should know about the star right now.
Article continues below advertisement
1) He is still in contact with OK!'s favorite Justin Bieber.
Ne-Yo saw Justin at the Billboard Awards most recently in Las Vegas, "I did see him in his gold jacket. He was getting his Elvis Presley on! I admire him for that."
He also hasn't ruled out working with him for Justin's next album. "I did one session for him but then I got super, duper busy and I haven't gotten a chance to do it again. They got my number, they know where I am!"
2) Expect a lot of collaborations on his new album!
"I've reached out to new friends, from Busta Rhymes, to Drake, to Lil Wayne, to Chris (Brown). Don't know exactly what will be on the album yet because we're still in the process of putting it together, but I got some T-Pain, Trey Songz, some cool people in the line up."
Also it won't be so complicated this time around.
"This album is going to be a little less complicated than my last one. My last one was a concept album based around a short story that I wrote. All the songs were based around that. This album is all about listening to the music and vibing out. It's music that you clean your house to, ride to, that you do homework do, whatever the case may be. There is a song for the occasion."
3) He'd work with Rihanna again — but hasn't seen her new video for "Man Down."
"I would love to work with Rihanna again. I haven't seen the video yet, I heard that it's a little racy. It's all good. It's entertainment at the end of the day."
4) His favorite part of the Samsung Galaxy Tab? That he can multitask!
"The multitasking. I'm a big game guy and I'm a big music guy, so the effect to flip back and forth between the two is a really, really cool effect for me. Long flights and long bus rides, yea it comes in handy."