NEWS
Gabourey Sidibe Has 'Bieber Fever'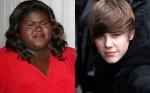 When Gabourey Sidibe sits down for a manicure to celebrate her 27th birthday today, she will entertain daydreams of Justin Bieber.
The two met Saturday during the White House Correspondents' Association Dinner in Washington, D.C.
"Here's a thing I'm actually embarrassed about," she says during American Cancer Society's Choose You launch event held Wednesday in NYC. "I met Justin Bieber before, and then I was at the table and I was there with my friends. We were going to talk to him, and then he showed up. I was like 'hey, my little sister really likes you, and she's 12, would you take a picture?' He was like 'cool.'"
Article continues below advertisement
She continues, "And then he walks away, and I was like 'wow.' All of a sudden, 'Bieber Fever' swept over me and I got hot and started sweating. I was like 'what's happening to me? Justin Bieber did it!'"
The swooning "illness" is sweeping showbiz. Kim Kardashian Tweeted a pic with Justin from the same event proclaiming she had "Bieber Fever."
But Justin's not the only star to captivate Gabourey in the celebrity crush department.
"I'm very girlish, and I'm boy-crazy, so most celebrities that walk by me, I'm like, 'oh my gosh, he's so hot, I want to marry him.'"
She also became BFF with Jessica Simpson during the annual dinner.
"We got to tour the White House together the next day," the Precious star says. "She's so cute. Actually, her dad is awesome. Joe Simpson's awesome. It was a lot of fun."
Gabourey doesn't doubt Jessica's sincerity in the body image department.
"I'm certainly someone who has gotten a lot of attention for my body image and I think she has, too," she tells me. "That type of thing is hard to deal with because you can't be anyone but yourself. I absolutely believe she is sincere."
Hm, what does this Oscar nominee want for her birthday?
"I want an apartment," she says. "I want an eccentric billionaire to buy me a Manhattan apartment."
Catch Gabourey in Showtime's The Big C this fall. "It's about cancer, but it's not from a sad point of view, but more of a realistic, funny point of view," she says. "That's something I hadn't seen yet."