NEWS
'Garfield' Creator Jim Davis Apolgizes for "Worst Timing Ever" Comic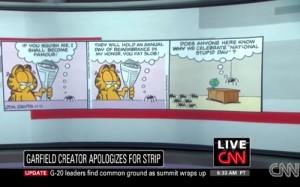 Garfield is always getting into trouble and Veterans Day was no exception. Creator Jim Davis had to apologize for the comic that ran on the holiday for its poor "timing."
OK! NEWS: TAYLOR LAUTNER, KRISTEN STEWART & ROBERT PATTINSON COVER FAME: THE CAST OF TWILIGHT
The comic strip that ran on Thursday shows Garfield about to hit a spider with a rolled-up newspaper and what the spider is thinking.
"If you squish me, I shall become famous!" the first panel reads. "They will hold an annual day of remembrance in my honor, you fat slob," the second panel states.
Article continues below advertisement
And the last panel shows a spider at a teacher's desk in front of a group of other spiders saying, "'Does anyone here know why we celebrate 'National Stupid Day?'"
OK! NEWS: ROBERT PATTINSON'S TWILIGHT FAME HAS REACHED NEW LEVELS
According to CNN, Jim said the comic being printed on Veterans Day was "the worst timing ever."
"The strip that runs in today's paper seems to be making a statement about Veterans Day. It absolutely, positively has nothing to do with this important day of remembrance," he wrote in a letter to friends, fans and veterans and said it had been written nearly a year ago.
"I had no idea when writing it that it would appear today — of all days," he added. "I do not use a calendar that lists holidays and other notable days, so when this strip was put in the queue, I had no idea it would run on Veterans Day."
Jim's brother served in Vietnam and his son in Iraq and Afghanistan so he said, "You'd have to go a long way to find someone who was more proud and grateful for what our veterans have done for all of us."
"You can bet I'll have a calendar that lists EVERYTHING by my side in the future," he concluded.