NEWS
Gary Busey Apologizes to Jennifer Garner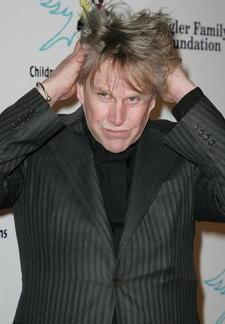 The most memorable moment of this year's Oscars didn't happen during the ceremony... it happened just before -- when an erratic Gary Busey interrupted Ryan Seacrest's interview with Jennifer Garner and Laura Linney on the red carpet.
Acting as if he had no idea who she was, The Point Break star grabbed a startled looking Garner, sloppily kissing her on the neck. Garner and Linney's reaction was priceless -- their faces wore the classic expressions of two women trying to fight off a strange man at a bar. "Are you okay?" Ryan mouthed to the actresses, before expertly brushing Busey off, telling him, "Okay, I'll see you later then? At 'that party,' you know the one."
Article continues below advertisement
Now, Busey is apologizing publicly for subjecting Jennifer to that awkward embrace.
"I got very excited and I did not know Ryan Seacrest was doing an interview," he tells Extra. "I apologized to Jennifer, I apologized to Ben Affleck, I apologized to Ryan."
The 63-year-old appeared to have a bone to pick with Ryan, loudly shouting his name on the red carpet; however, Ryan revealed he had never met Gary before. The following morning, Gary called into KIIS FM to explain his behavior, saying that he had an idea he wanted to discuss with the American Idol host and got too excited when he saw him.
That wasn't the only weird encounter Gary was apart of that night. After crashing an interview, the actor told off an 11-year-old reporter, to whom he also apologizes to.
"I apologize. I would love to meet her again and pay attention to her and give her my heart instead of running away."
As for his former co-star Patrick Swayze, with whom he appeared in Point Break and The Player, Gary sends his best to his old pal, who recently revealed he's battling pancreatic cancer.
"You have the will and faith to make this happen. If you can talk me into going skydiving, you can beat this cancer."
For more on Gary, tune in to Extra tonight!