NEWS
Gary Coleman Ties the Knot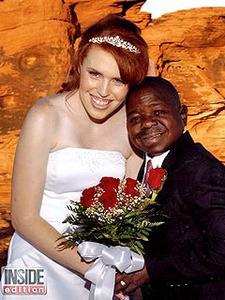 In "better late than never" news, Gary Coleman married girlfriend Shannon Price on Aug. 28, 2007 — her 22nd birthday, he tells Inside Edition.
The secret ceremony took place on a mountaintop with nobody but "the minister, preacher, the videographers, the photographer, the helicopter pilot and us," Gary says.
The couple met on the set of Church Ball and the Diff'rent Strokes star confesses it was love at first sight.
Article continues below advertisement
"I never got the opportunity to be romantic or feel romantic with anyone," he says. "I wasn't saving myself, she just happened to be the one."
Although there's more than a foot difference between them in height (he stands at 4'8" while his bride is a bit over 5'7"), Shannon says it wasn't and still isn't a big issue in their relationship.
"He was 10 feet tall to me, because he was sweet and I really liked his personality."
Age makes no difference either as Gary, 40, says he's more concerned with intelligence. But their age gap did play a factor in Shannon's TV viewing.
"I didn't grow up with Diff'rent Strokes," she says. "I actually didn't like watching TV when I was younger."
For more on Gary, tune in to Inside Edition tonight!