NEWS
Gavin DeGraw Gets Love From Tour Mate Adam Levine: "Get Back Out Here"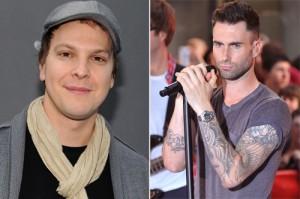 As he currently recovers in a New York hospital after being brutally attacking in NYC Monday morning, singer Gavin DeGraw is receiving thousands of well wishes from fans on Twitter, and is a trending topic on the social networking site. He is also receiving love from the music community and celebrities. His current tour mate Adam Levine made sure to give him a special shout-out.
"Please send your love to @gavindegraw tonight. We love you buddy. Get well and get back out here!" Adam Tweeted.
Article continues below advertisement
Gavin is currently on tour with Maroon 5 and Train and had a concert scheduled tonight.
Singer Debbie Gibson also reached out to Gavin on Twitter, writing, "Sending love and well wishes to @GavinDeGraw."
Star of The Bachelor Season 13, Jason Mesnick — who danced to Gavin at his wedding — wrote, "Please wish @GavinDeGraw a speedy recovery"
Gavin is currently in the hospital for observation after being attacked by a group of unidentified men on a NYC street. The attack led to his hospitalization and injuries including a broken nose and facial cuts.
A representative for Gavin issued a statement: "Gavin DeGraw was assaulted late Sunday night and taken to the emergency room at Bellevue Hospital by ambulance. He is currently under observation."
We wish him a speedy recovery!