NEWS
Gavin DeGraw Plans to Return to Maroon 5/Train Tour This Month!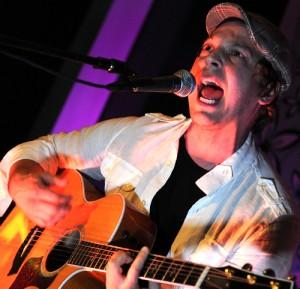 After enduring a brutal attack and being hit by a cab earlier this wee in NYC, Gavin DeGraw has been forced to cancel a number of scheduled performances on the Maroon 5/Train tour, but plans to return by the end of this month.
"Due to the recent attack and resulting injuries, Gavin DeGraw has been advised by his doctor to take additional time to recover from his concussion, broken nose and other injuries," his rep said in a statement, via The Hollywood Reporter.
Article continues below advertisement
OK! NEWS: GAVIN DEGRAW GETS RELEASED FROM HOSPITAL & THANKS FANS ON TWITTER
But the crooner will rejoin the tour this summer, planning to return Aug. 24 in Columbia, Md. The last dates scheduled are Aug. 25 in Syracuse, N.Y. and Aug. 26 on Holmdel, NJ.
Gavin took to his Twitter to thank his fans, Tweeting, "Hi my friends. Honestly, I don't remember much. I only know I can recover from here. Thank u all for your genuine concern. I love u guys."
According to reports, Gavin was assaulted by three men in the East Village in the early morning hours Monday after leaving The National Underground, a club he owns along with his brother, Joey DeGraw.
Gavin didn't call the cops right after the attack and instead, walked across the East Village and stood in the middle of the street. At that point, things got worse when a southbound taxi struck him.
His canceled performances include:
Bethlehem, PA-August 14
Hersey, PA-August 15
Nashville, TN- August 17
Indianapolis, IN-August 18
Des Moines, IA-August 19
Chicago, IL-August 20
Clarkston, MI-August 21
Toronto, ON- August 22