NEWS
Gavin DeGraw Talks 'Dancing With the Stars' & Karina Smirnoff: "I Had the Greatest Time!"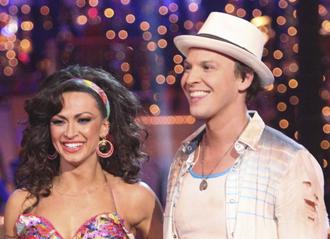 Gavin DeGraw might not be slipping on his dance shoes tonight, but the eliminated contestant has nothing but amazing things to say about his experience on Dancing With the Stars. Especially when it comes to talking about his super sexy partner, Karina Smirnoff.
OK! met up with Gavin before he got on stage to perform during the Origin Rocks Earth Month Concert on April 18, and he filled us in on what it felt like to be sent home last week, what he'll miss about Karina and who he thinks should be the next celebrity competitor on the show!
Article continues below advertisement
"I had the greatest time and met some amazing people and we all kind of share the experience," he added. "When it ended, it was like the ending of camp. I had to leave my new friends."One of those friends was his partner Karina, who he likes to call his "fake TV girlfriend." When we asked Gavin if there was any romantic chemistry between the pair, he told us they were more like "an old married couple," than a hot twosome. "Karina and I are past romance," he revealed. "She's nice-looking and she's a great dancer. And of course, any guy seeing a woman rocking a body like that on the dance floor... it's exciting! I mean, very exciting.""And I was just happy to have her tell me, 'Put your hands on me here!'" Gavin added, laughing. "I was like 'Okay, whatever you want! Who am I to deny you such pleasure!' Well, who am I to deny myself such pleasure!" OK! NEWS: GAVIN DEGRAW GETS SENT HOME ON DANCING WITH THE STARS As for who he'd recommend to do the show, Gavin said he'd tell any one of his celebrity friends to do it, especially his One Tree Hill buddy Sophia Bush, who hosted the Origins Rocks Earth Day Concert. "I would completely recommend it for Sophia," he suggested. "She'd be great at it. And you know what it is? It's all about stepping out of your element. That's the best part about it, taking on a challenge. Take your shot!"