NEWS
Gene Simmons Disses "Rihanna, Shmianna"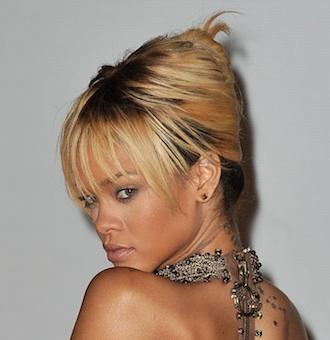 Let the celeb wars begin! During a press conference for KISS and Motley Crue's new tour, Gene Simmons talked about the problem with performers today and slammed Rihanna in the process.
OK! NEWS: RIHANNA GETS NEW TATTOO OF A CROSS INKED ON COLLARBONE
"We're sick and tired of girls getting up there with dancers and karaoke tapes in back of them," he said. "No fake bullsh*t. Leave that to the Rihanna, Shmianna and anyone who ends their name with an 'A.'"
Article continues below advertisement
So, yes that includes Madonna, too. During the presser, as pointed out by Celebuzz, he also dissed the Material Girl's performance during the Super Bowl.
Backstage, Tommy Lee agreed with Gene's sentiments for the most part. "No disrespect to Rihanna, she's a great singer, but we're in a slump for some sh*t that has some personality and appeal beyond a bunch of pop stuff that's floating around there."
OK! NEWS: RIHANNA ON SNOOKI — "SHE'S DOPE"
He added, "I'm glad he said that actually because I don't think I can bear watching another f**king award show that is just a little bit better than American Idol. It's f**king pathetic to watch people go out and f**king karaoke with a bunch of lights and video. It's all completely watered down."
Whose side are you on? Gene and Tommy's or RiRi and Madonna's? Sound off below!